Mobile Sites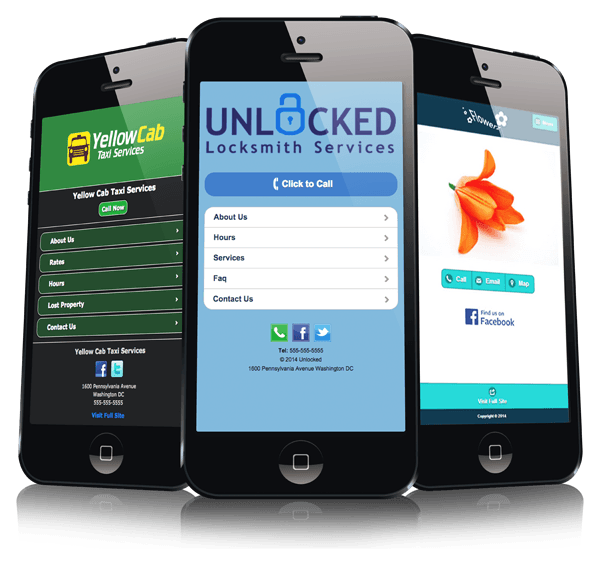 Reasons Why You Should Go Mobile
Nowadays, if you don't have a mobile website, you or your business is at a disadvantage in today's changing market.
Increasing Mobile Use
Forty-five percent of users between the ages of eighteen to twenty-nine use mobile search daily and thirty-one percent of mobile Internet users primarily access the internet from their mobile devices. Across all industries, mobile traffic is increasing by three point five percent each month.
Search Engine Traffic
The number of local searches on mobile devices quadrupled in 2012 and local mobile searches (85.9 billion) are projected to exceed desktop searches (84 billion) for the first time in 2015. By having a companion mobile website, existing searches and traffic to your desktop site will go to a mobile site for mobile users.
Increase Conversions
Twenty-eight percent of mobile searches result in conversions. Eighty-one percent of people prefer mobile for its convenience and speed; forty percent of them will click another mobile result if the site isn't mobile friendly.
Before and After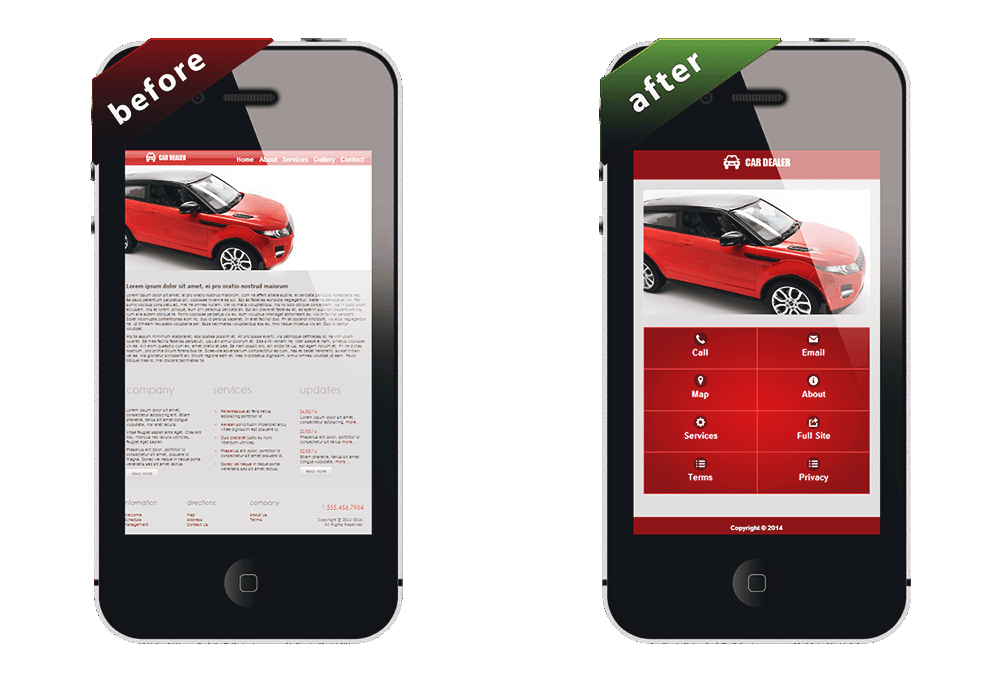 Notice a difference between the desktop website on the left and the mobile optimized website on the right? When viewing the desktop site on a mobile device, users must pinch to zoom and swipe to scroll up and down, making it harder to read content and navigate the site. The mobile-optimized site was designed for a smaller screen size, making content easier to read and navigate. This makes it much more convenient to use than an unoptimized desktop site, which makes the difference between people using your site, or someone else's.
Some of our features
One Touch Calling
One Touch Calling makes it quick and easy for your customers to get in touch with you. No numbers to save, remember or manually dial; all that's required is a simple press of a button. Calling has never been easier.
Contact Form
We can also add a contact form for mobile visitors to contact you.
QR Code Generator
Generate QR codes that can be added to any print material or ads that you run.
Social Links
We can add icons linked to your business social networks.
Maps
We can add Google Maps to your mobile website. It's great for when a customer needs directions to your place of business.
Plus Much More
We have many more features such as photos, YouTube videos, Google Analytics integration, menus, and more!
FAQ Frequently Asked Questions